Barta Boys and Girls Club Billfish Tourn.
Details

Published on Monday, 20 July 2009 18:03
Written by scott
Hits: 626
First, let me say how proud we were to be part of this great event.  If you have kids or not, this is truely a tournament that everyone needs to attend and be part of.  All of the staff did a great job and I know for sure we will be returning, along with my family, who had a wonderful time. 
Next year I hope to be able to spend more time enjoying the event, rather than trying to finish up and get the boat over to the docks.   Which brings us to the skinny on the Hull #1 and her debute.  As always it seems, a plan never quite goes as planned, especially when you are short on time.  The boat was to leave Ocean Isle Marina and Yacht Club on Tuesday after the CAT PAR test and head toward Beaufort.  The test went fine but we were a little over propped, so final numbers are still out in the air.  Into the current we turned  up to 2245 and with the current 2260, so some prop work and will still have appox. another 100 rpms to go.  But the good news was, even over propped we hit 40.9 kts, so we are really pleased with the preformance and can't wait to get her tuned in.
With the day running long, we decided to make it to Wrightsville Beach and tie up at the Bridge Tender over night and shoot out Masonboro early Wednesday morning and head  towards Beaufort.  Once we cleared Masonbor Inet, we were met by a ENE 15 kt plus wind, on the quarter bow.  We set her at 1800 rpm and managed to ease thru it at 30.8 kts without the first bit of spray on us.  The starboard cockpit stern covering board was all that go wet.  Not to shabby for our first ocean run.
Once we arrived in Beaufort, alot of work on the interior and touch up paint had to be finished up.  So we pulled her into a local yard and everyone set up shop.  I have to thank all of the guys and girls efforts, but it seemed every step forward we would take, a 1/2 set back would jump  up. 
The captains party began on Thursday evening but we were only able to be there in spirit and it was a great time with great food and spirits.  We would have to wait one more day to bring the boat over.
As Friday drove on, I had to finally make a decission on getting her to the docks or not.  So, I told everyone to stop what they  were doing and start cleaning everything up.  The interior panel walls were not finished, not due to anyones fault exept old man time, we just didn't have enough.  We set the exterior cushions in place and we were finally on our way to the Beaufort City Docks around 8:30 pm.  The winds were howling out of the SW at 20 kts and that meant it was going to blow me straight into the docks.  As we approached the docks, it was dark and all we could see were the lights from the water front and the heat lighting in the front on the way.  It was actually pretty cool looking back at it now but I can assure you, I wasn't real thrilled about the wind and current we were about to encounter.
Just before pulling up to the water front, we turned all of the exterior lighting on, and man does this thing light up.  I went to nose her in but realized real quick that was not going to work, so I pull out spin her around and tell the boys to hold on.  Only two choices, put her in the hole or knock the crap out of the bulkhead with 200 plus people watching.  Fortunately, we came in hot and slid right in to a large ovation.  It could not have been written out any better, so what do I have a right to complain about over the last 4 days. 
The rest of the night and Saturday went great with lots of people coming by and looking at her.  Everyone was very positive with their comments and especially about the lines and space of the boat.  Saturday morning we were priviledge to have Dean Travis Clark, of Marlin Mag., on board for her first trails.  We will be waiting anxiously to hear the out come.
Both Dennis and I would like to thank everyone that has been part of this new beginning.  If the dock talk and buzz around remains, we just may be onto something really special here.  From the beginning, this has always been about doing things right, only the hightest quality, and providing something a little bit different and not being scared to step outside the box.
I will be posting some pics from Beaufort late in the week.  John took some photos, as I didn't quit have time for it.  And I would also like to thank  you, John Gore, for all your dedication and hard work, that you would never find in any other Broker anywhere, period!!
Who's Ready To Start Another Dream!!!!
Scott
Island Style Yachts
Here is a running shot, more pics have been added to the Yachts Page.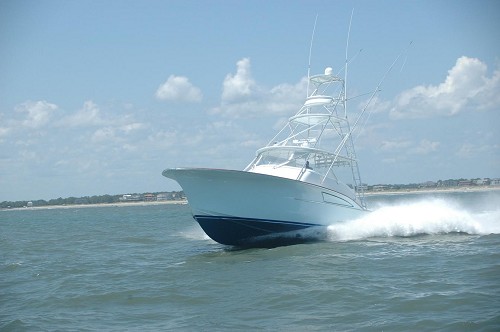 Sitting Pretty!!!!
Details

Published on Wednesday, 01 July 2009 20:14
Written by scott
Hits: 630
Yesterday could not have gone better.  Well, maybe if someone had brought a check for her!!  But I would like to thank everyone for all of there help, efforts, and support.  Yeah, some people have called us crazy, idiots, and much worse, but one thing they have to say after we put her in the water is "THAT IS ONE DAMN GOOD LOOKING RIG"  Alot of man hours have been spent in construction over the last 15 months and alot more will go into it over the next few weeks.  But the final product is well worth it!  The boat will be sitting at the Ocean Isle Marina and Yacht Club for the next couple of weeks with final interior, hard top, and teak work.  Stop on by and check her out for yourself.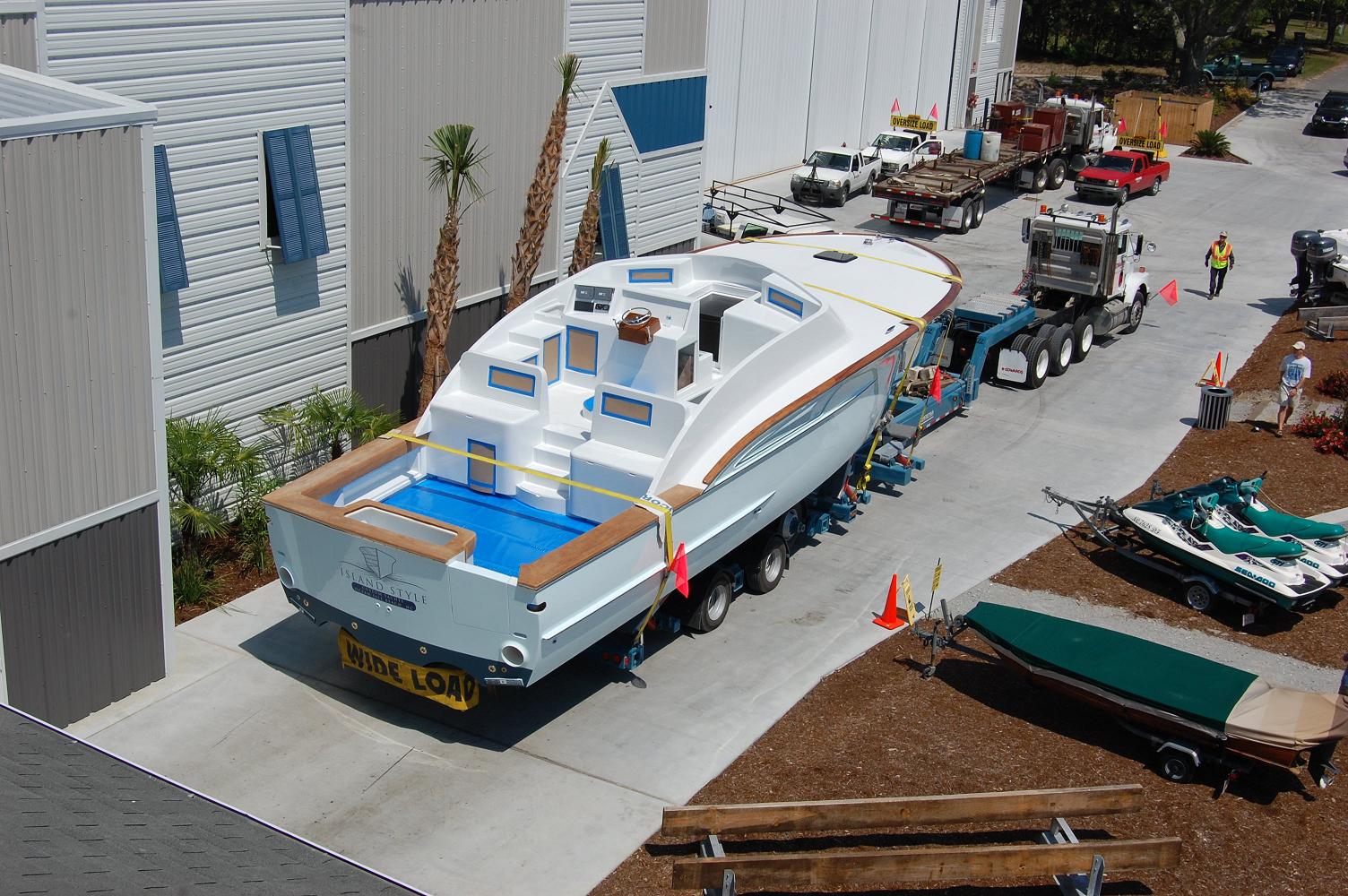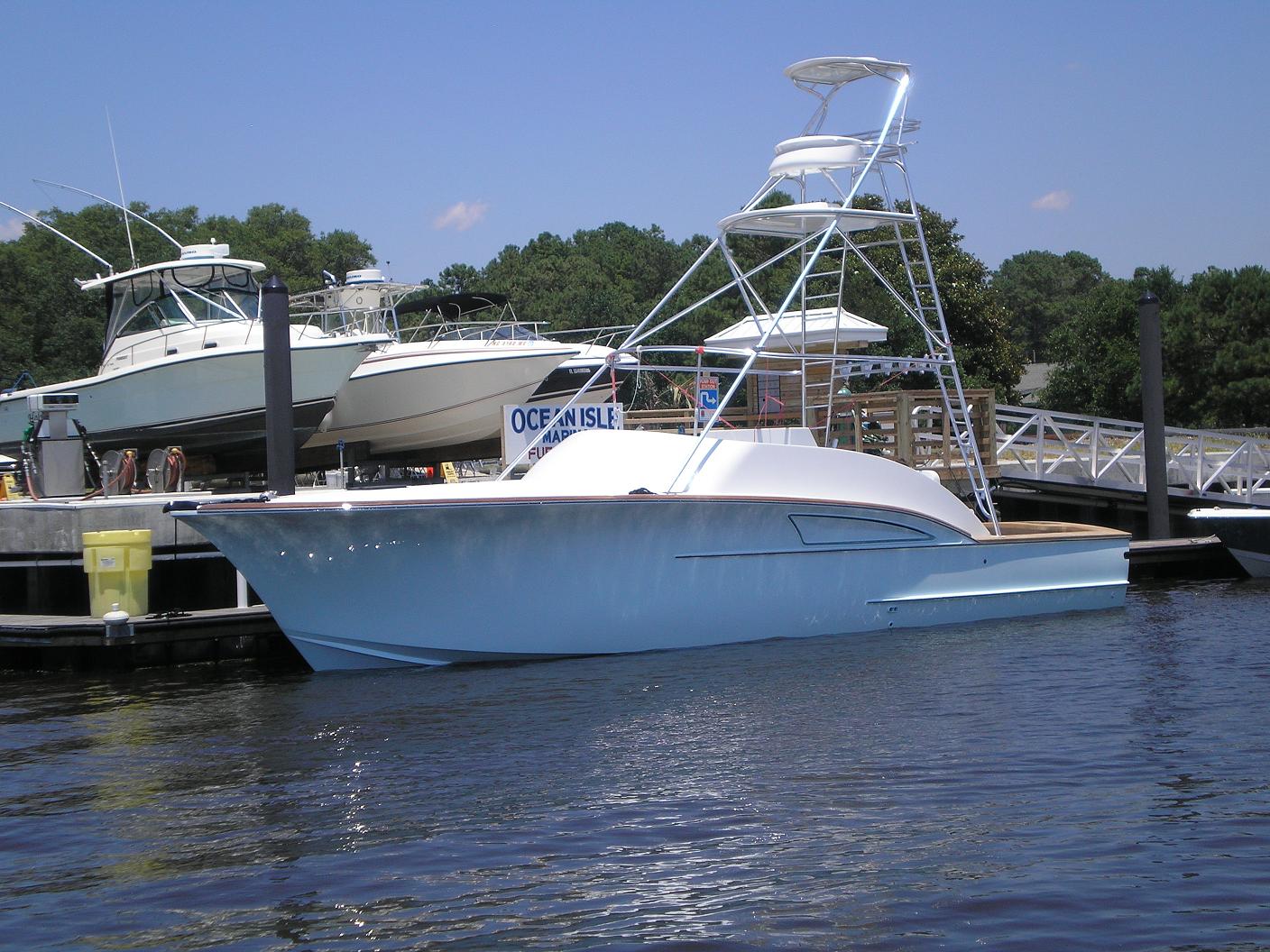 42 Express Launch Date Set
Details

Published on Thursday, 04 June 2009 13:12
Written by scott
Hits: 445
It is official.  The Island Style Custom Yacht Q42 Express Sportfisher will be launched at the Ocean Isle Marina and Yacht Club on June 30, 2009.  Everyone is invited to stop by and check out the event, as all types of media will be present.  I will update a time schedule as we get closer to the launch.
On the construction side, cabinets are being installed along with teak toe rail, coaming, covering boards, and cockpit.  All soft goods are being made now as well.  Mechanical and electrical are the big areas of work being performed now. 
Check out this ad with the artist rendering of the boat that will be in the Barta Boys and Girls Club Billfish tournament brochure.  The boat will be sitting at the Beaufort Docks for the tournament starting July 15, 2009.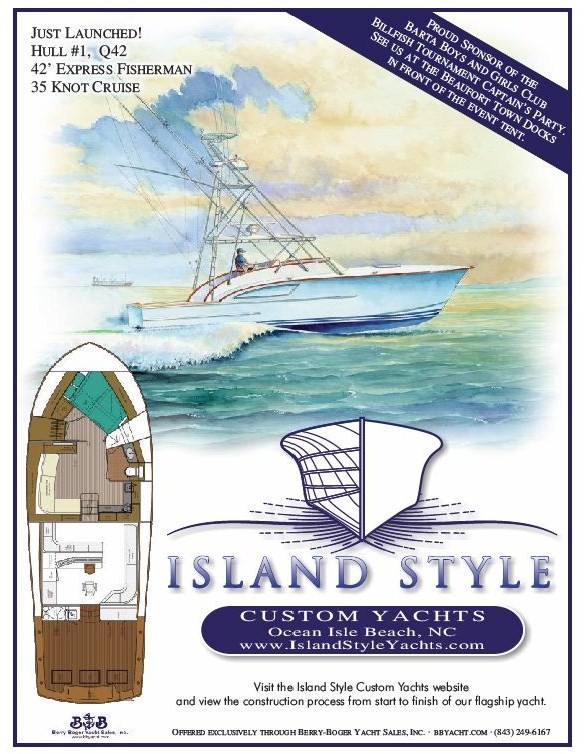 Roll Her To The Water
Details

Published on Thursday, 25 June 2009 20:23
Written by scott
Hits: 552
Only 5 more days and splash day, Tuesday, June 30th, will be here.  This weekend will still be packed full of work, so if you are down this weekend stop by the shop and check it out.  The teak cockpit, covering boards, and coaming are being installed.  Final paint and non-skid is being sprayed at night.  Interior cabs, electrical, and mechanical hook ups are still dead ahead for start up.  The stainless steel rub rail is being installed as well.  If you happen to be going down the waterway by Ocean Isle Marina and Yacht Club this weekend, you will see the guys putting the tower back together there as well.  It will be being installed on the boat on Tuesday as well.  After launch, we will still be at the marina for approx. two weeks finishing up electronics, interior, and teak before we head off on July 14th to the Barta Boys and Girls Club Billfish Tournament.
Everyone is invited to stop by the shop or by the marina on Tuesday to see her go in the water.  Aprox. splash time will be around 12:00 noon.
I will try to get some new pics up this weekend.
Scott
Island Style Yachts
Launch Site Decided!!!!!
Details

Published on Tuesday, 26 May 2009 13:23
Written by scott
Hits: 1196
We are extremely pleased to annouce that we have joined forces with Ocean Isle Marina and Yacht Club to be the official launch site for Island Style Custom Yachts.  All the guys there have done a 1st class job of completely renovating and adding on to the marina.  If you haven't been by there, you are truely missing out on one of the best kept boating secrets in Brunswick County.  Check them out on their website at www.oceanislemarina.com  Now we both will kept you up to date on the launch date as we get closer, but tentatively we are shooting for the 3rd or 4th week in June.  Both of us are planning on making this a true event to help get even more recognition for Ocean Isle Beach, NC.
On the boat building side, Danny Martin and crew delivered the remaining interior teak cabinets today and install will begin tomorrow.  They turned out awesome, with a high gloss finish.  Most of the bridge and cockpit construction is complete and sanding and fairing are going on strong.  Woody started on the teak toe rail today as well.
Some pics of the cabinets and toe rail where added to the yacht galler, so give them a look.
Island Style Yachts